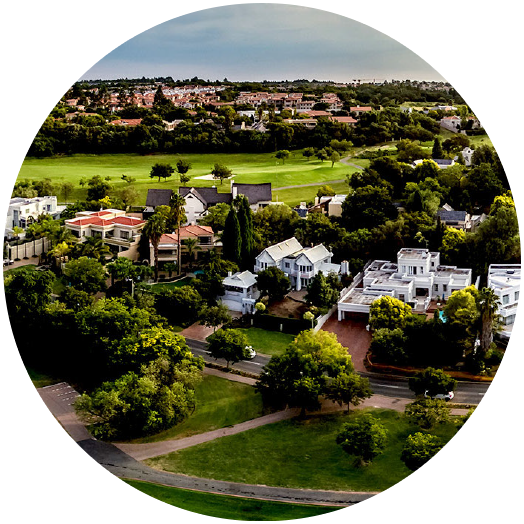 Lifestyle
Dainfern Golf Estate offers the ultimate lifestyle of living in a secure environment, manicured gardens, and a prestigious golf course.
---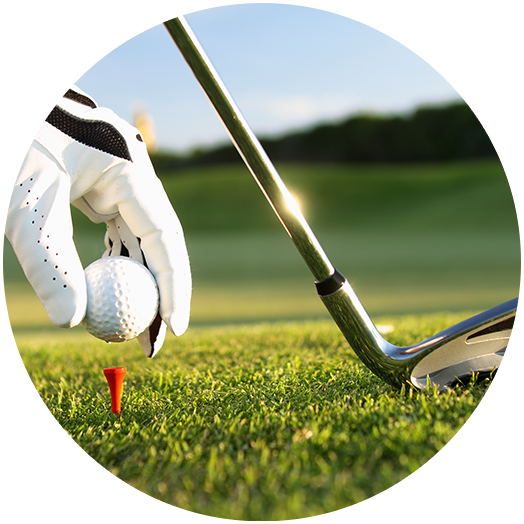 Golf
Gary Player and Phil Jacobs took the Fourways layout and built the Dainfern golf course as we know it today.
---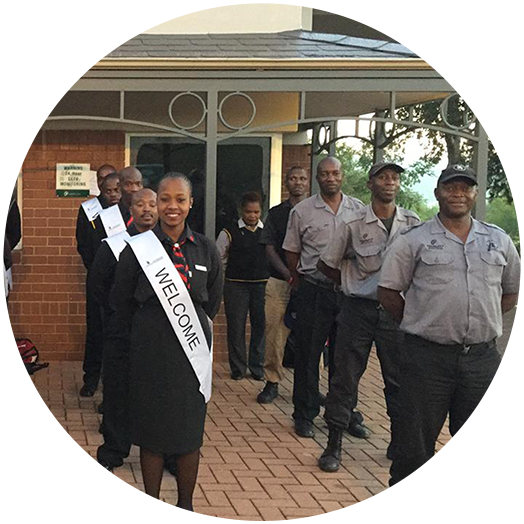 Security
Strict access control procedures are in place, including a biometric system for ease of access for residents and members of the golf club.
---

Experience luxury at Dainfern
Dainfern Golf Estate is a remarkable example of how persistence and hard work can turn a dream into reality. This private Estate in the north-east of Johannesburg was acquired by Johnnic Properties in 1985, and the acquisition included the old Fourways Golf Course. But, it wasn't until after rigorous research, consulting, planning, and negotiation that Dainfern Golf Estate came to existence. This premier lifestyle Estate serves as an inspiration to never give up on your dreams. If you have a big vision, take the time to develop a plan and put in the effort to see it through, just like Johnnic Properties did with Dainfern Golf Estate.
Complimentary lifestyle events
take place throughout the year
Family Events
Our facilities host various family events throughout the year, cultivating a warm and inviting atmosphere that fosters a sense of community among our esteemed residents. These events offer an exceptional opportunity for socialization without compromising on the safety and security our estate provides.
Secure Lifestyle
Dainfern Golf Estate is known for its top-notch security, making it a favorite among residents. You can go about your day without worrying about your safety or that of your family. The estate offers various activities to enjoy such as playing on the Oval, tennis and squash, or taking a dip in one of our two swimming pools. Children can also ride their bikes and play in the parks without any concerns. Come and experience a secure and stress-free lifestyle at Dainfern Golf Estate.
Dainfern, a private estate in Johannesburg's northeast, has an inspiring story. Johnnic Properties bought it in 1985 and transformed it into a vibrant community. It is now a luxury estate admired by visitors and exemplifying successful urban planning. Dainfern shows that hard work and dedication can lead to amazing achievements.
1985
Project Idea
The old Fourways Golf Course formed part and parcel of the acreage acquired by Johnnic Properties and, after a great deal of research, consulting, planning, and negotiation, the premier lifestyle Estate, Dainfern Golf Estate, was born.
1986
Business Conception
JCI purchased the company Dainfern Investments (Pty) Ltd and applied for a township to be known as "Dainfern" to be developed on the outskirts of Fourways.
1989
Golf Course Design
This pioneering act would see Dainfern develop into Gauteng's first Residential Golf Estate and the first Gary Player designed golf course on a residential estate in South Africa opened.
1992
Township Proclamation
Dainfern Township was officially proclaimed in 1992 and is currently under the management of the Dainfern Homeowners Association. The association has been registered as a Section 21 Company since 1991 to ensure efficient management and upkeep of the Estate.
2000
DHA Established
On the 31st of August 2000, Johnnic officially transferred the Estate's management to the Dainfern Homeowners Association.
2014
Change of Profile
The profile of our company was modified to an NPC (Not for Profit Company) in 2014, in compliance with the applicable laws of South Africa. The Estate is governed by a comprehensive Memorandum of Incorporation and Estate Rules, which prioritize the rights and interests of every homeowner and resident.
2021
30 Year Golf Course
Our Golf Course celebrates 30 years of excellence! We provide high-level service and an unforgettable golf experience. Our course and facilities are of the highest quality. We intend to bring greater value to our players in the years ahead.
2022
30 Year Anniversary
Celebrating Gary Player's legacy and Dainfern Golf Estate's 30 years by unveiling the Gary Player Tribute. Let's remember his perseverance and dedication as a great golfer, inspiring future athletes.
2023
The Best Golf Course
Dainfern Golf Club is a top-rated course in South Africa, voted as the Best of JoBurg golf course. Gary Player's design transformed the old Fourways course into a masterpiece. The Par 72 layout combines Jukskei River's beauty with willows, water features, and rocky outcrops. It offers challenges for expert golfers and opportunities for novices. Dainfern Golf Club is an oasis, perfect for those seeking peace away from the city's bustle.
The Dainfern Homeowners Association team is dynamic and dedicated, and they are responsible for keeping our beautiful community thriving. This talented group is made up of visionary leaders who work to ensure that every resident enjoys the very best quality of life, security, and comfort.
A wide variety of educational, shopping and entertainment facilities right on your doorstep.
Schools in the vicinity include:
American International School of Johannesburg
Beaulieu Preparatory and College
Brescia House School
British International College
Broadacres Academy
Chartwell College
Crawford Preparatory and College
Dainfern College
Fourways High School
HeronBridge College
Kings School Bryanston
Kyalami Preparatory
Lonehill Academy
Pinnacle Kyalami
Reddam House Helderfontein
St Peter's Preparatory and College
St Stithians College
Steyn City School
Shopping centres in the vicinity:
Broadacres Shopping Centre
Cedar Square Shopping Centre
Chartwell Corner Convenience Centre
Dainfern Square
Dainfern Valley Shopping Centre
Design Quarter
Fourways Crossing
Fourways Mall
Leaping Frog Shopping Centre
Lonehill Shopping Centre
Pineslopes Shopping Centre
The Mall of Africa
Entertainment close to Dainfern:
Cedar Square Shopping Centre
Croc City Crocodile and Reptile Park
Fourways Mall
Lion and Safari Park
Montecasino
The Cradle of Humankind
The Mall of Africa
State-of-the-art protection
24/7 Security
Security on the Estate is state-of-the-art and the two entry gates at Cedar Road and Broadacres Drive are manned 24 hours a day, 7 days a week with a highly sophisticated access/egress system. Strict access control procedures are in place, including a biometric system for ease of access for residents and members of the golf club.
Dedicated Staff Members
The Estate is patrolled by a fleet of roving vehicles with armed officers in various locations. The 8.4km perimeter electric fence is monitored by high-tech cameras and are viewed by the control room, which is manned 24 hours a day, 7 days a week.
Partner Support
The Fidelity Security Group are well equipped and expertly trained for dealing with any type of emergency. We also have a leading onsite paramedic service available – SLA (Specialised Logistical Assistance) as well as dedicated onsite fire services offered by FireOps SA.
Homes of distinction and style are built in one of nineteen Villages
Every village is unique and has its own character and personality. The homes are crafted by some of the most talented and acclaimed architects in South Africa. Each home is a testament to the creativity and innovative spirit of these designers. Their masterpieces give life and personality to the village and inspire all who see them. Let us take a moment to appreciate their work and draw inspiration from their ingenuity in designing homes that are not just houses, but works of art. Each home stands as a symbol of endless possibilities and serves as a reminder that with creativity and hard work, we can create something truly unique and beautiful.